Welcome back guys!
I think the last post touched a nerve — it seems that many of you guys have had difficulty breaking into the precision GPS market. If you're not yet inspired to take the precision RTK GPS plunge, just wait — we're going to have some fun in upcoming posts pitting the ComNav K501G in an Epic Showdown with some of the competitors we mentioned last time. I don't know about you, but I can hardly wait.
Rover 2
We now present the Rover 2 build as a photo essay: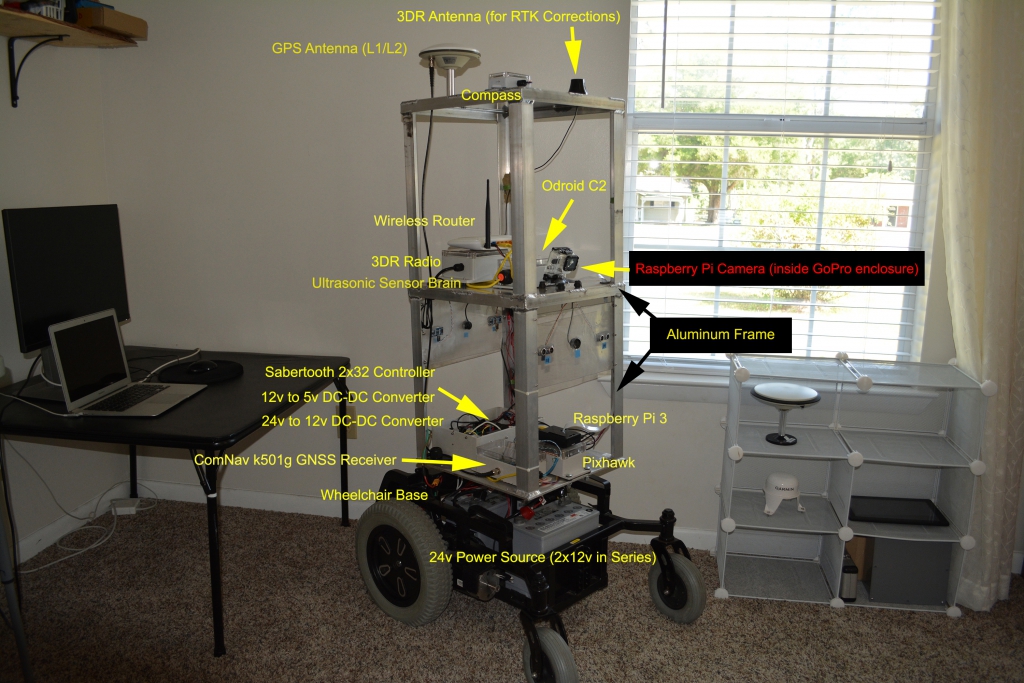 Notice that we've labelled the main components to give you a high-level overview of what's where. Let's start digging into the build by working our way from the base up to the top…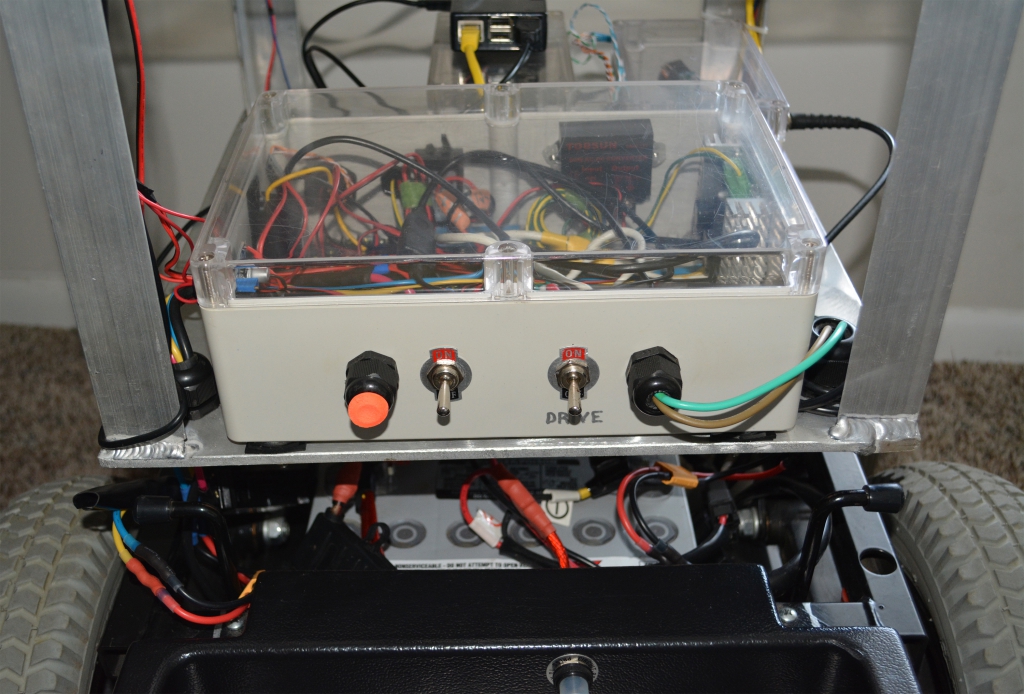 Two on/off switches (like
these
) — one dedicated to the drivetrain (Sabertooth 2×32), the other dedicated to everything else.
Right up front, my eager sons, we need to have an honest discussion about on/off switches. So go ahead and strike up the fireplace, grab a cup of coffee, come over here and jump up close while 'ole Dad Roby has a heart-to-heart discussion with ya' about the temptations you will soon face. If you've built a robot before, you've likely experienced the brutal temptation that I must now warn you about…
Of course we're talking about the temptation to mount an on/off switch in a non-standard posture.
Young sons, heed my words: OFF MUST BE DOWN. I really don't care about which way you make ON, but you MUST make the down position of the switch correspond to OFF.
The only exception to this whatsoever is if what you're turning ON/OFF doesn't matter. For instance, if the switch controls your secret Justin Bieber loudspeaker, then you may get away with it. Otherwise, please dear sons, don't attempt to retrain an entire lifetime's worth of muscle memory just because you think a sideways switch will look cool, or because it will fit more cleanly in your enclosure.
If you refuse to make OFF correspond to down, and if one day things go wrong and you're not able to instantly turn off your robot via muscle memory, then you'll deserve the bruises you'll receive. I pray it's only bruises, my son.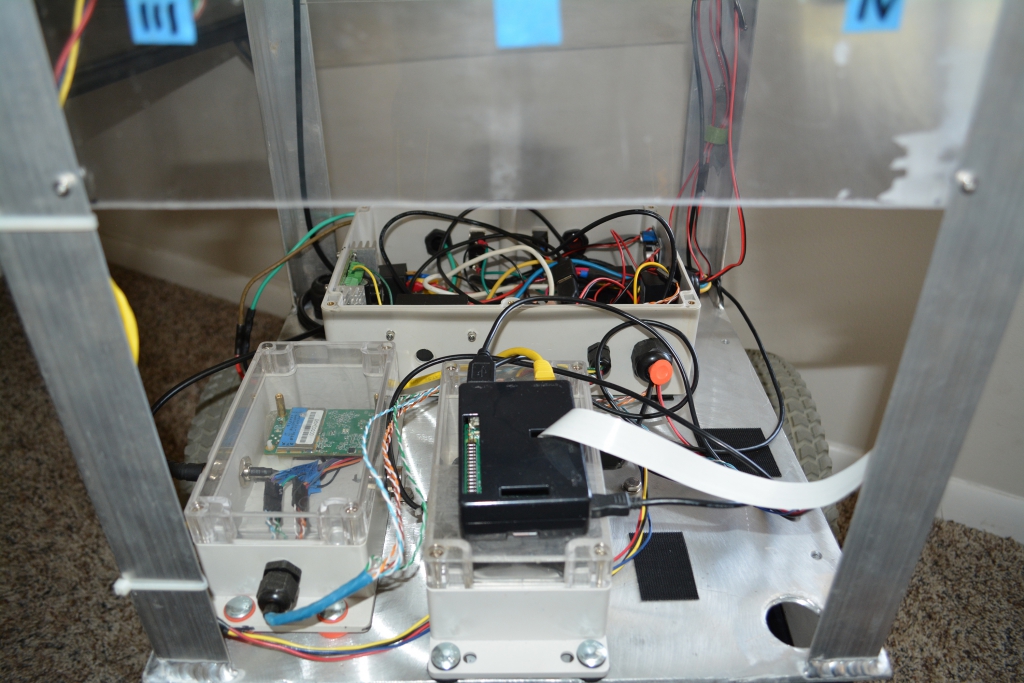 Notice that's a Raspberry Pi 3 in the black case sitting on top of the center case. Pixhawk autopilot is in the enclosure below the black case.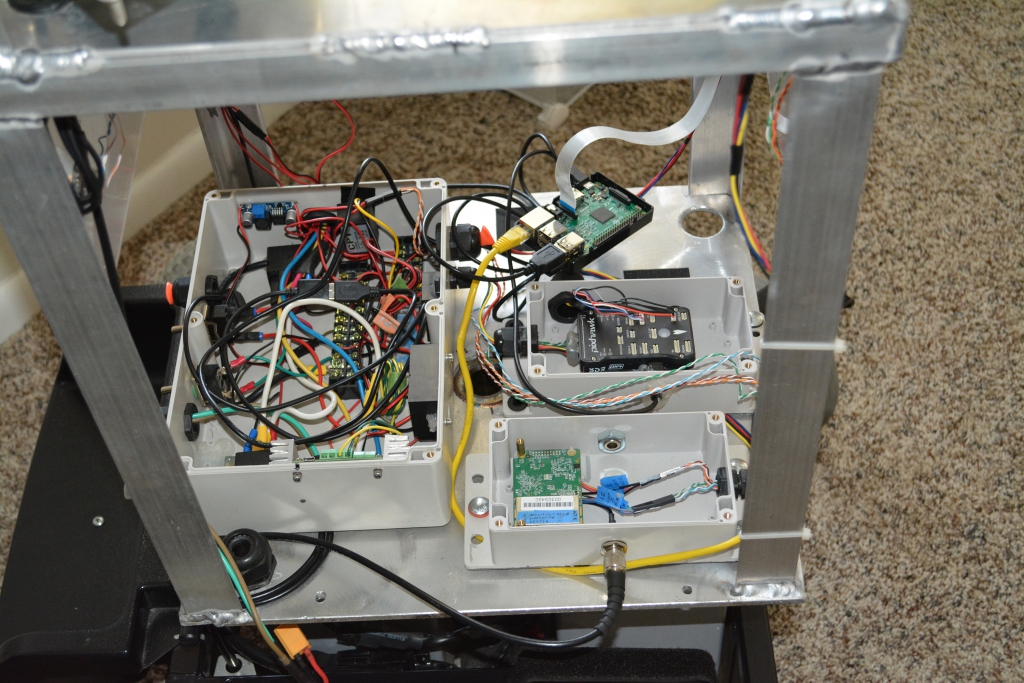 Cover pulled off of Pixhawk case reveals Pixhawk sitting all alone in center enclosure.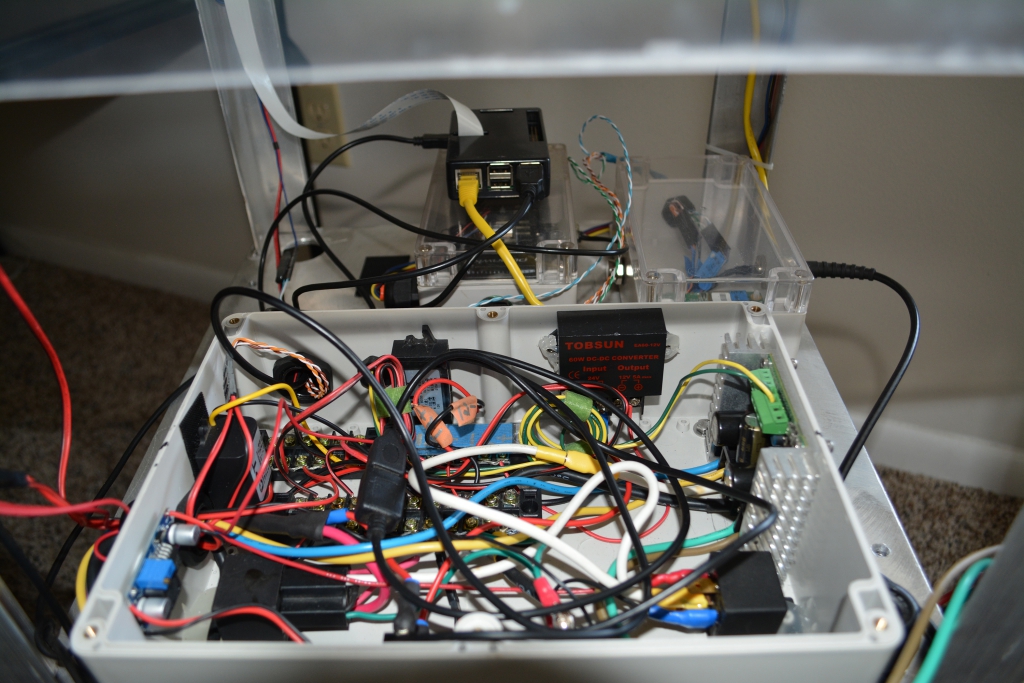 Power box contains Sabertooth 2×32 controller, terminal blocks, 24v-to-12v DC-DC converter, 12v-to-5v DC-DC converter, relays, and USB power supply. I know what you're thinking — those wires look out of control. Agreed.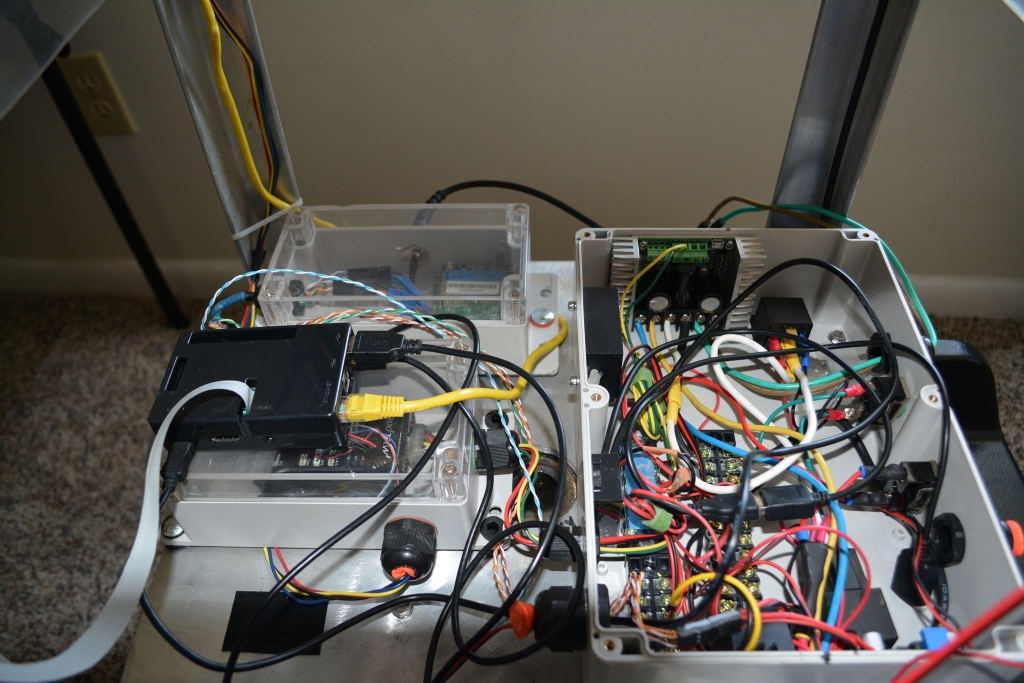 That long ribbon cable on the left snaking out of the Raspberry Pi is going up to the Pi camera.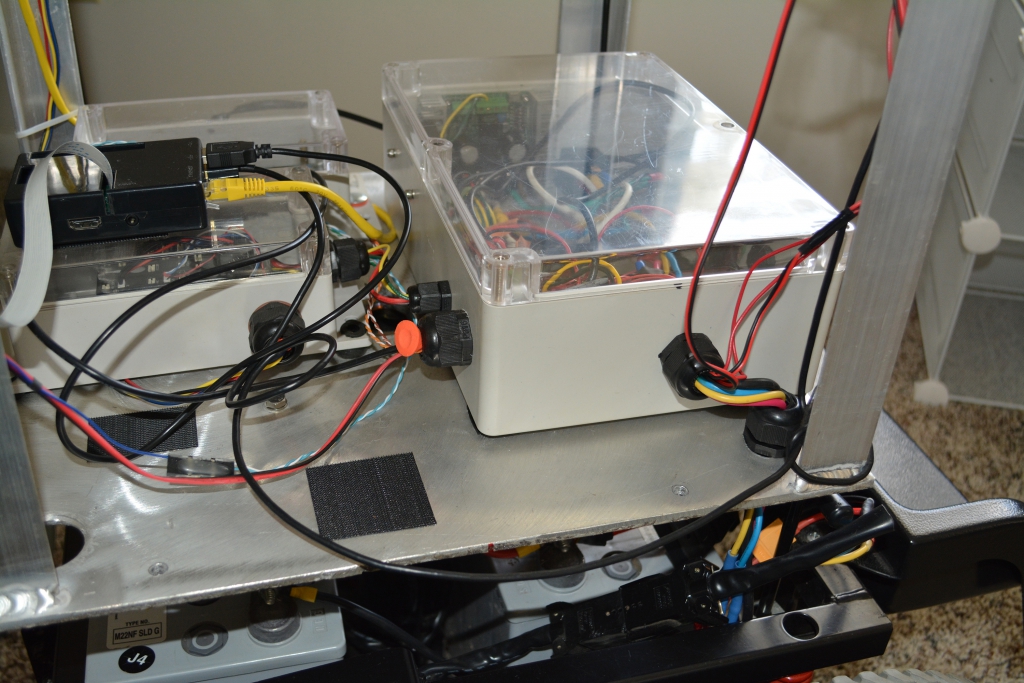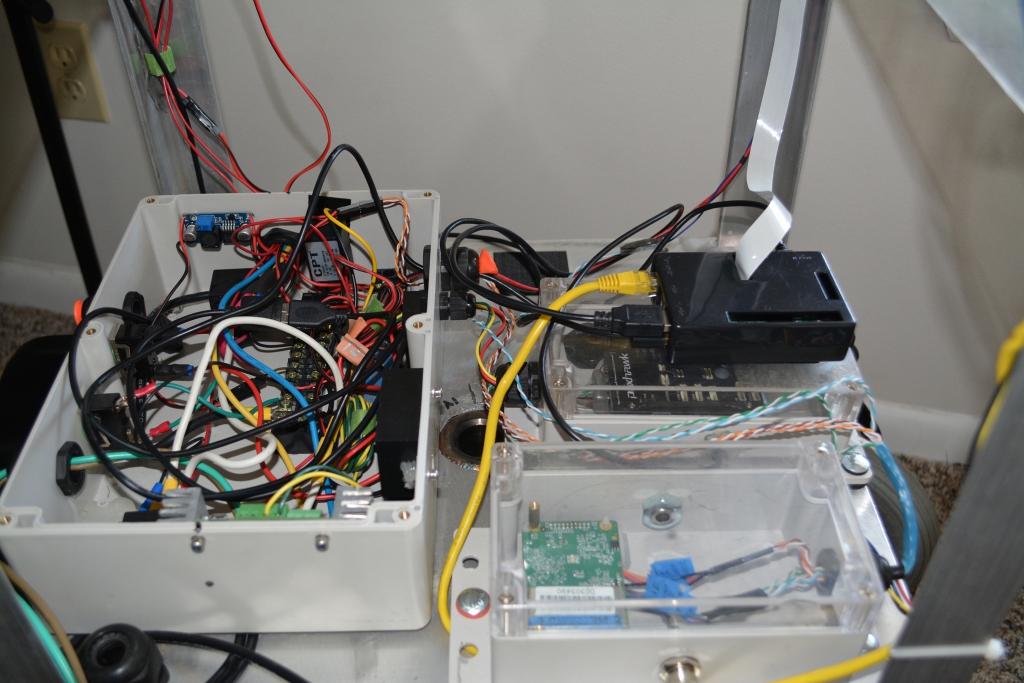 Astute readers will note that a Raspberry Pi 3 has WiFi built in. So what's up with the ethernet cable? My experience is that a single onboard router with devices connected to it via ethernet is a preferable solution.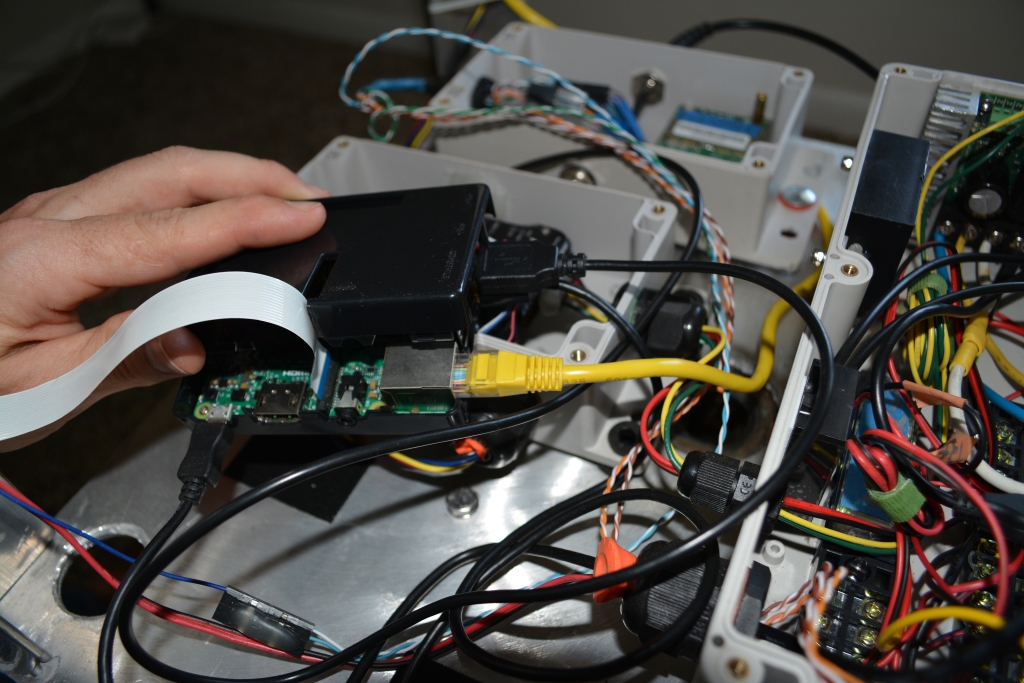 Notice the small slot cut in the side of the Pi case. This allows us to easily remove the case without removing the video ribbon (and fiddling with the Pi's regretfully brittle plastic camera ribbon lock).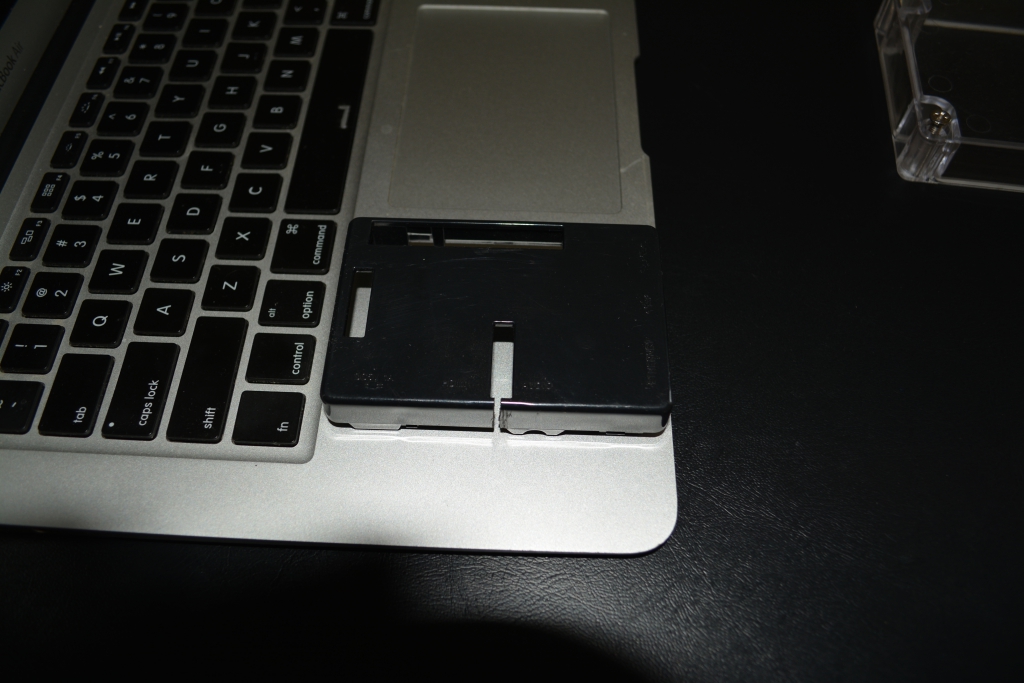 Another picture to show the little slot cut in the side of the Pi case, enabling us to remove the case without pulling the video ribbon. Little tweaks like this will make you much happier after removing the case 100x.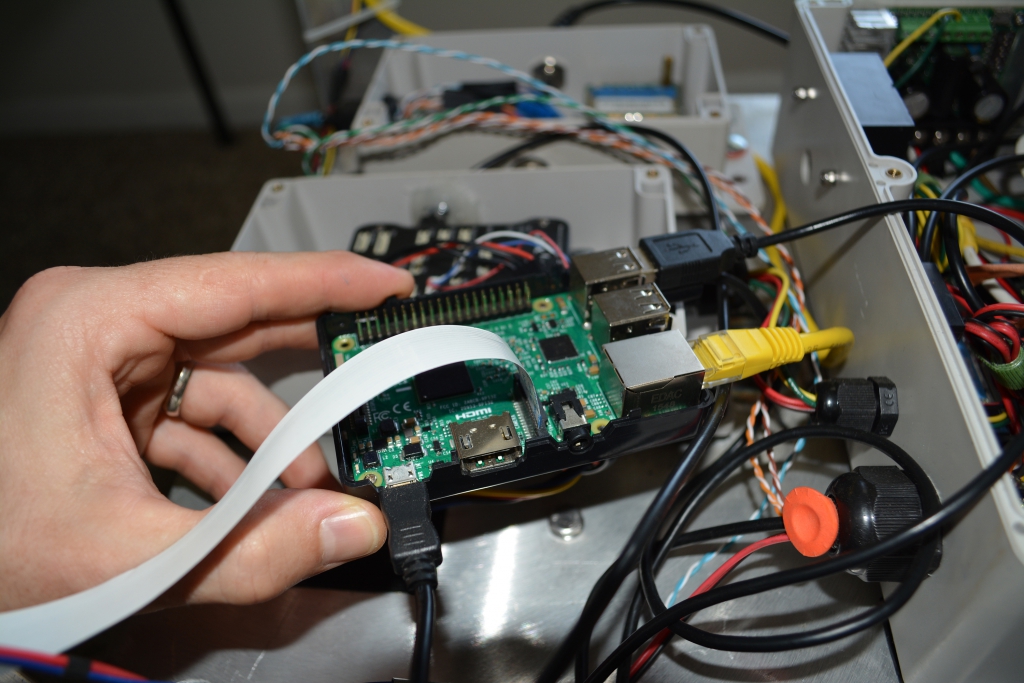 View of the Raspberry Pi 3 with lid removed.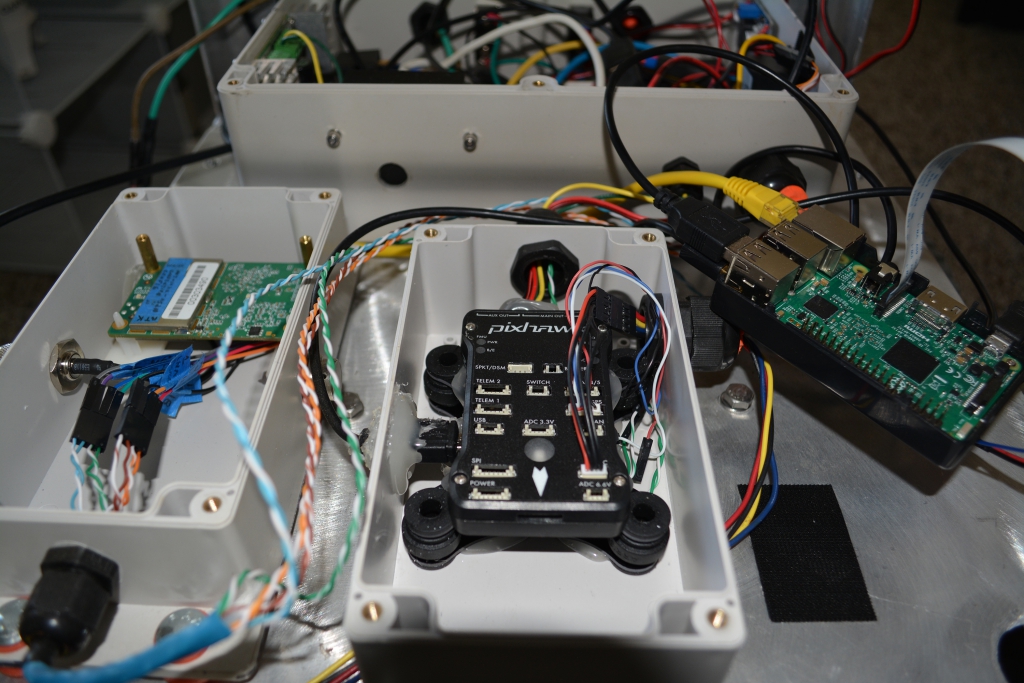 Notice that the Pixhawk is mounted on a vibration reducing mount within the enclosure. The Pixhawk's gyros and accels would like to say "thank you".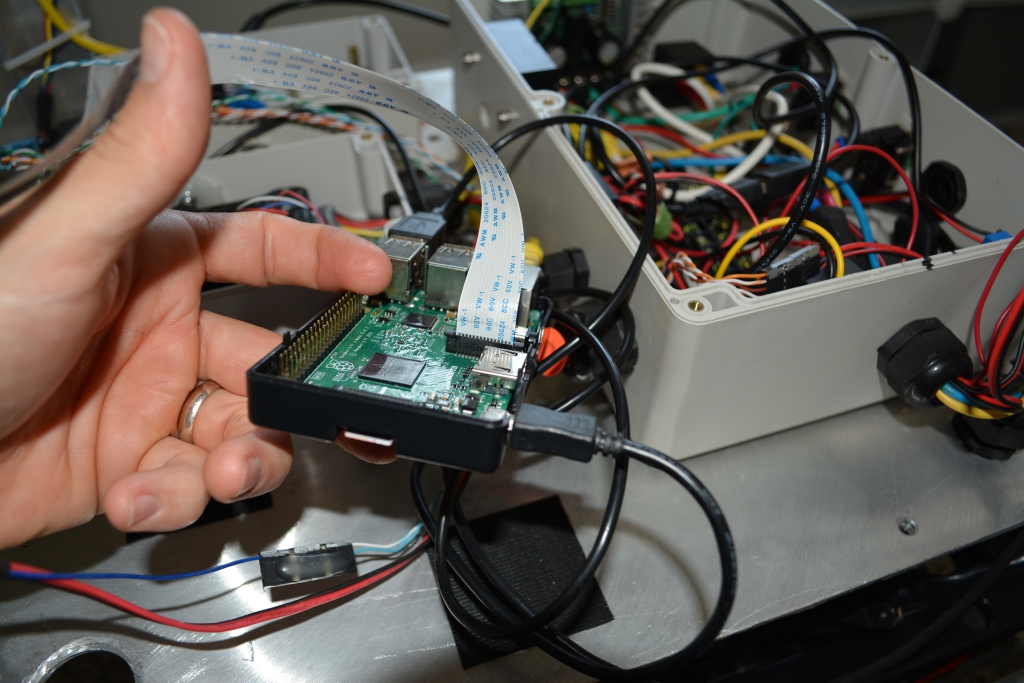 Can you guess why the Pi has a distinctive sheen?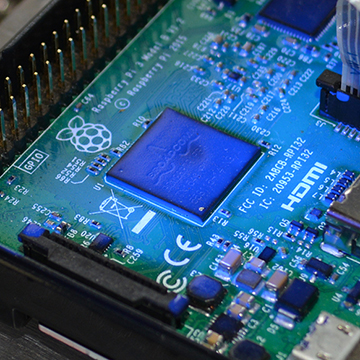 Did you guess? It's conformal coating! I like to leave the Pi exposed for testing — the reason for this is that it seems you're always plugging in another cable or pin to the Pi, and enclosing it inside a case creates future time drains. Here we have a problem, though: what happens when the unexpected April shower pops up in the middle of your mission? If your Pi's unprotected, you may have just lost $35. Our answer to this situation is a good coating of MG Chemicals conformal coating.
The coating glows when you illuminate it with a UV light, revealing how much coverage you achieved. Man, stuff that glows is timelessly cool.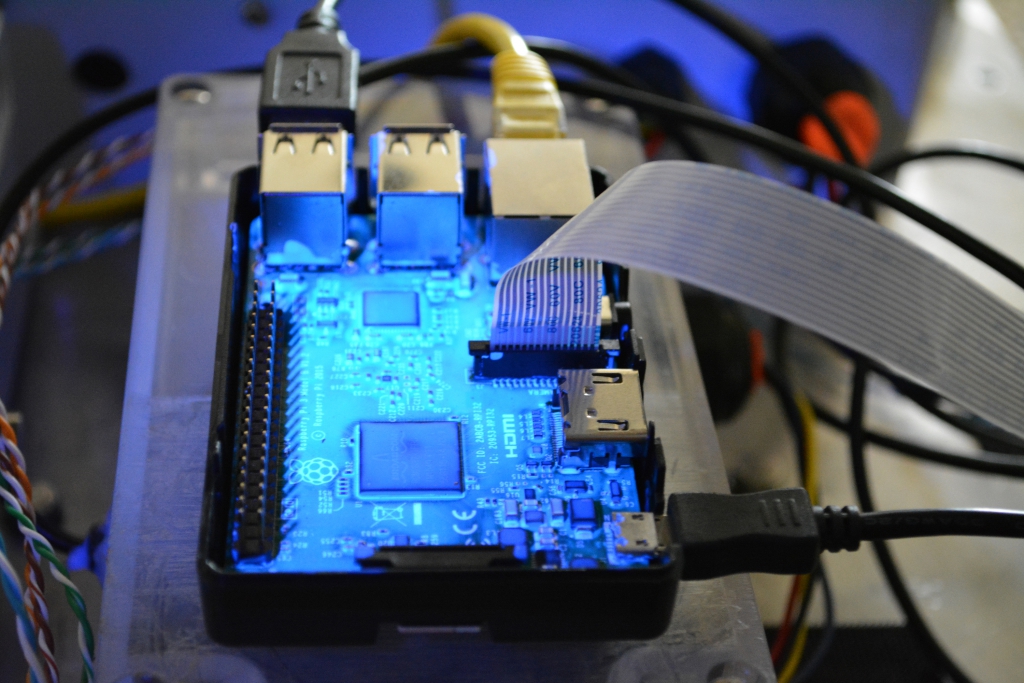 Tip: insert the video ribbon cable, the HDMI cable, and the USB cable BEFORE applying conformal coating. Otherwise the coating has a sneaky tendency to get inside those connectors. You will have nightmares getting a good connection if you let this happen. Yes, I learned the hard way.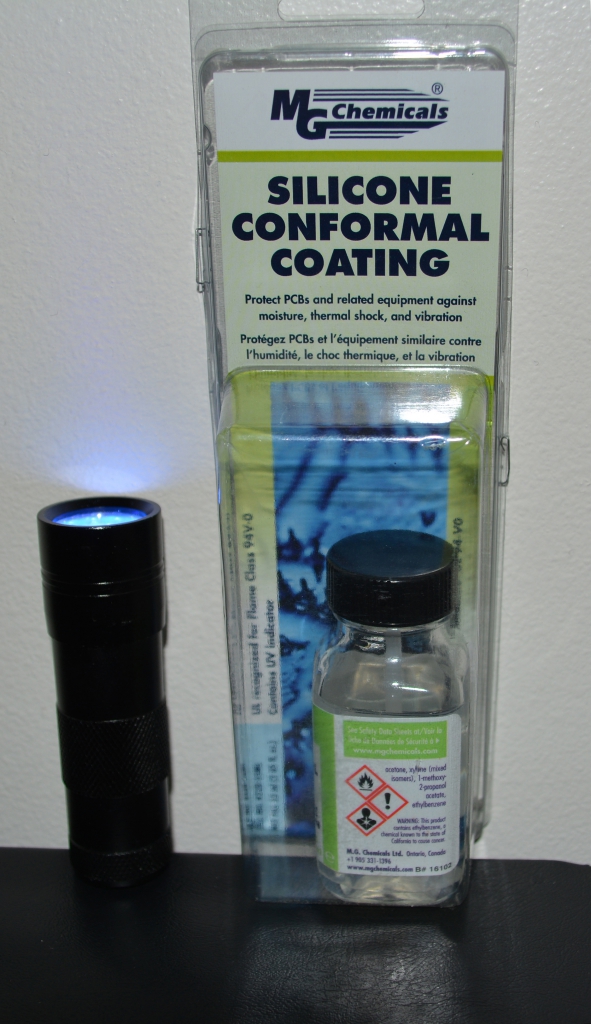 They put warnings all over this stuff like it's pure Uranium. Probably best not to consume.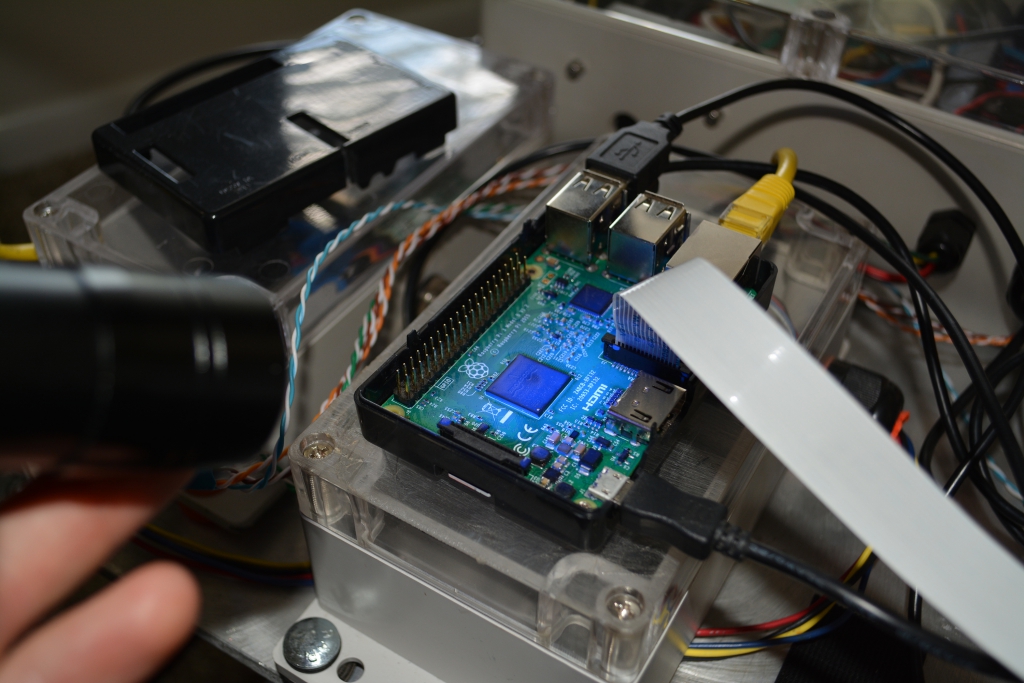 Conformal coating coverage test in process.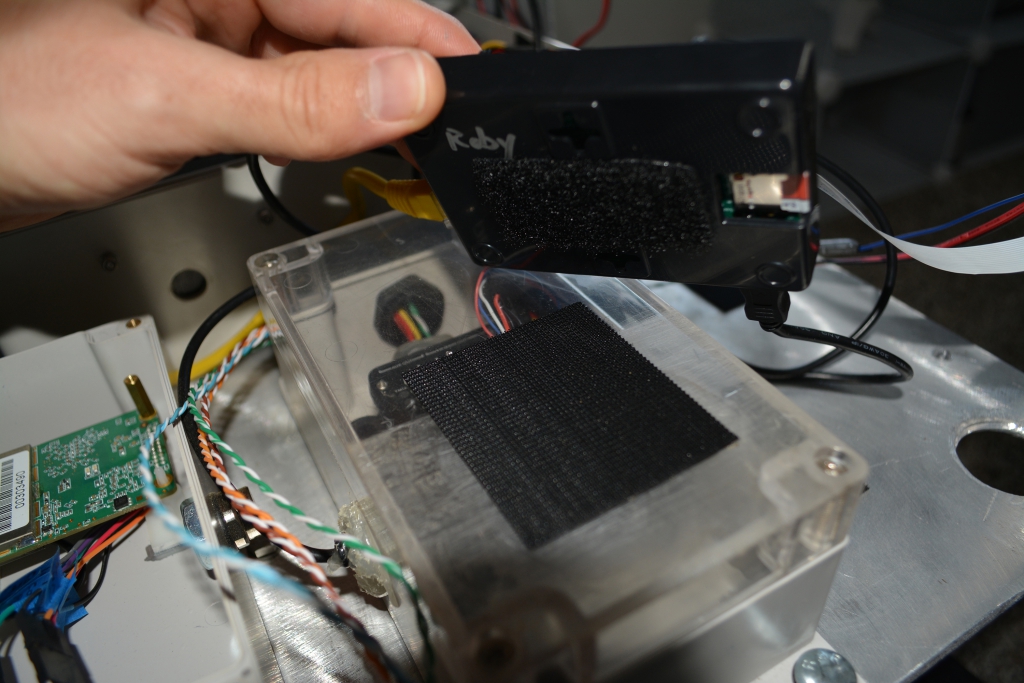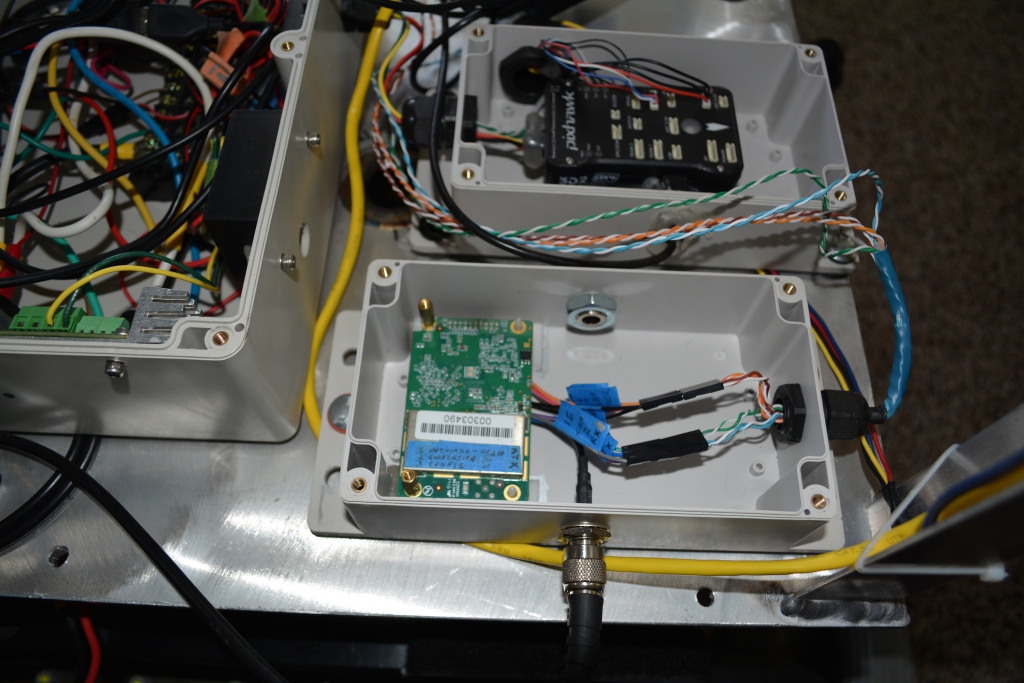 Well, who do we have here? I see a Pixhawk up there at the top and that's the power box over there on the left. Now, what is that little card at the bottom….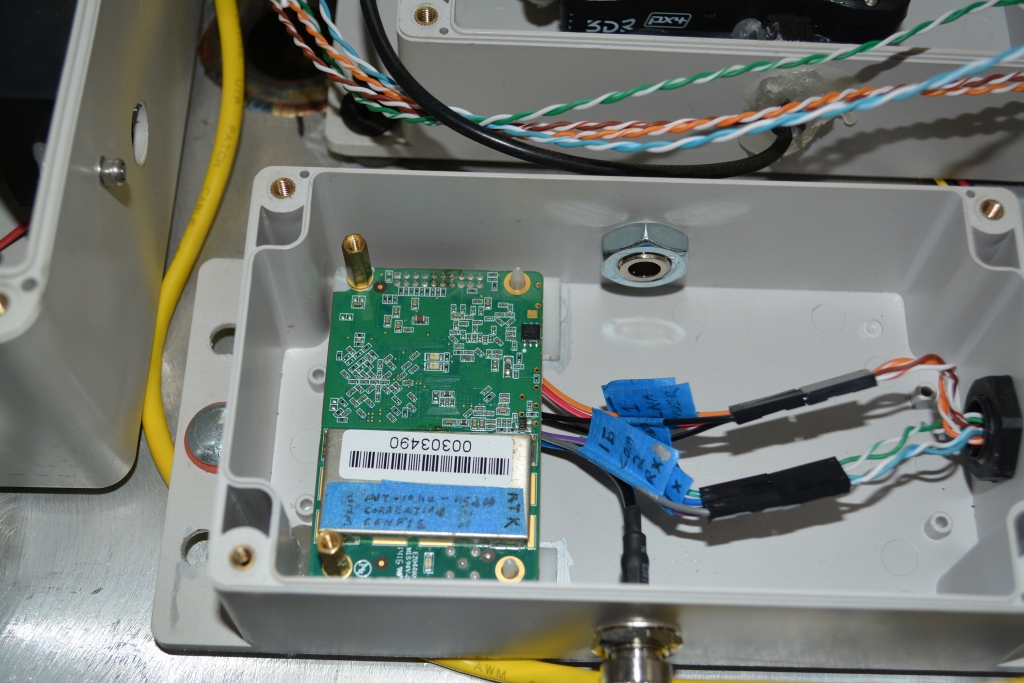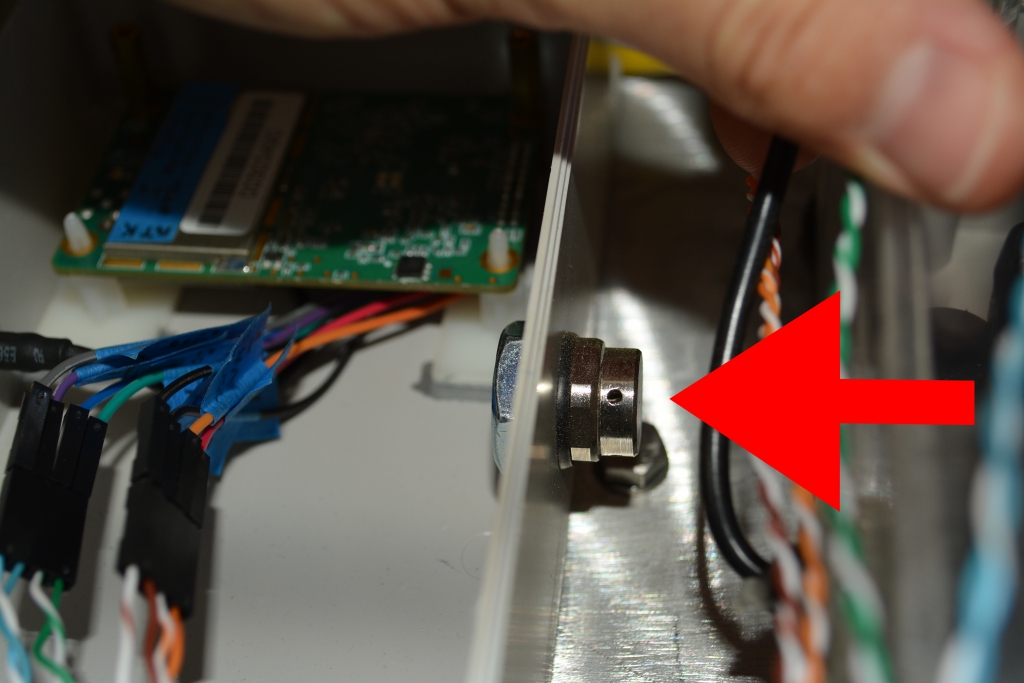 Robot building pop quiz: what in the world is that red arrow pointing at?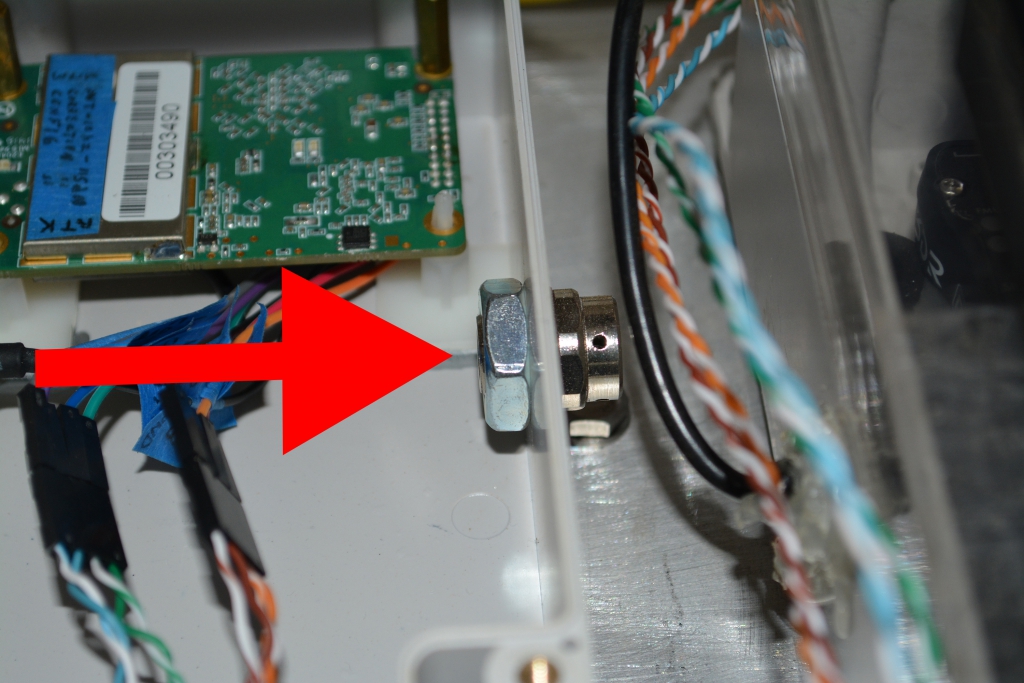 Do you know the answer?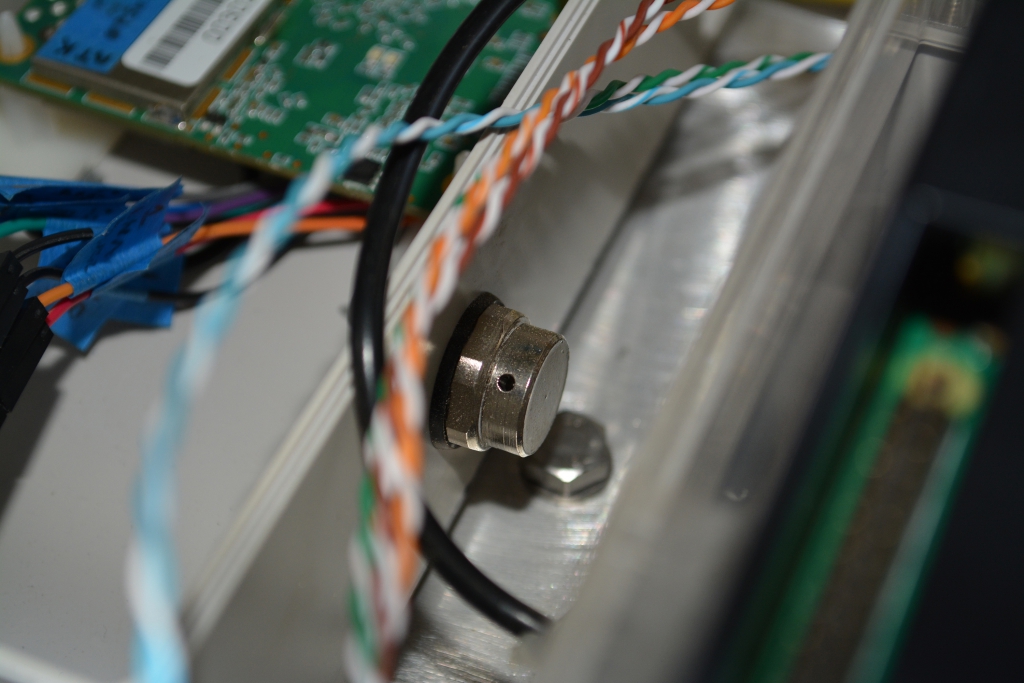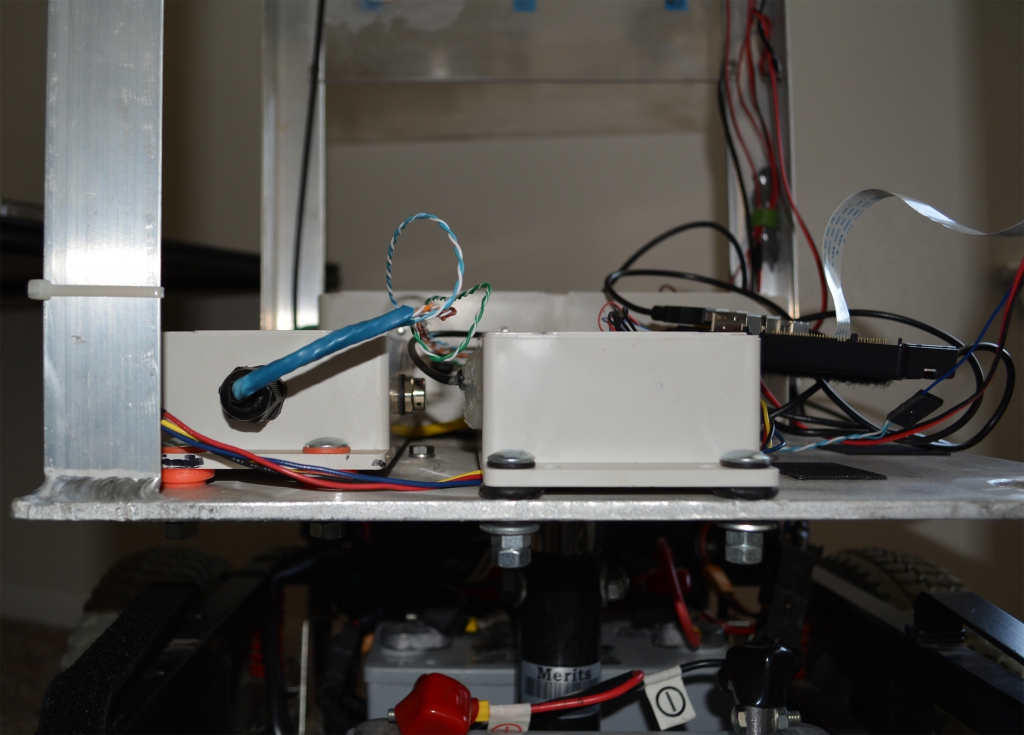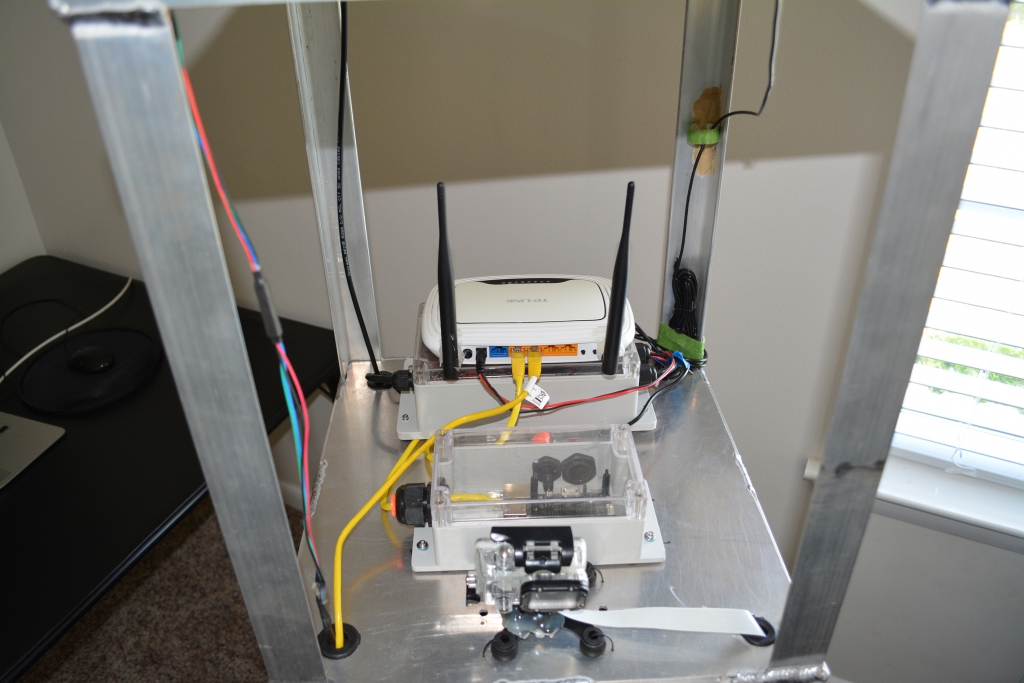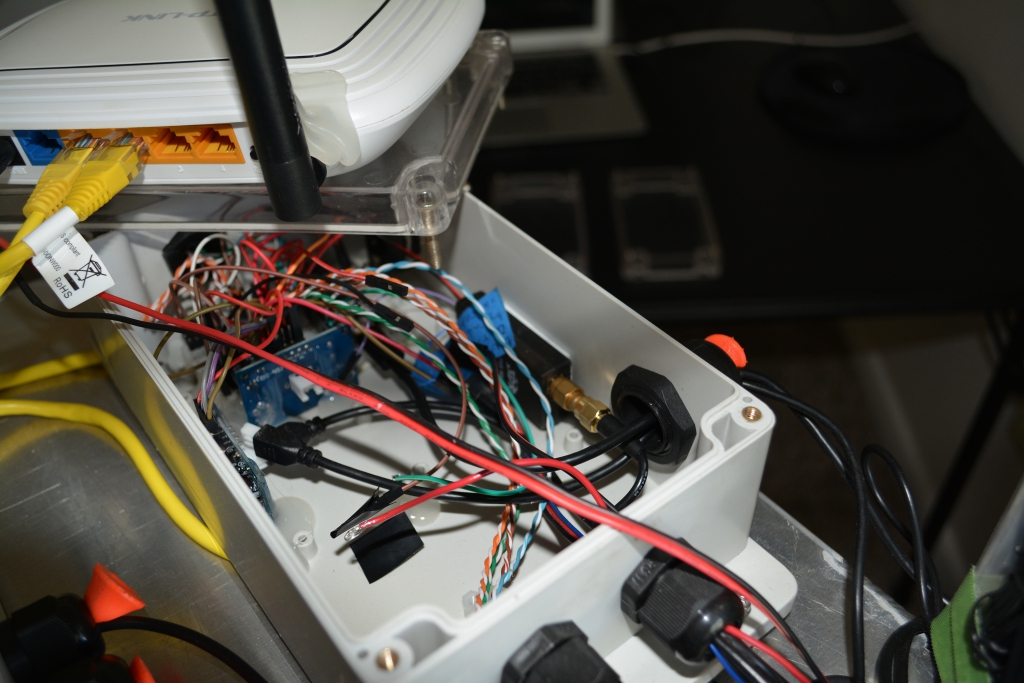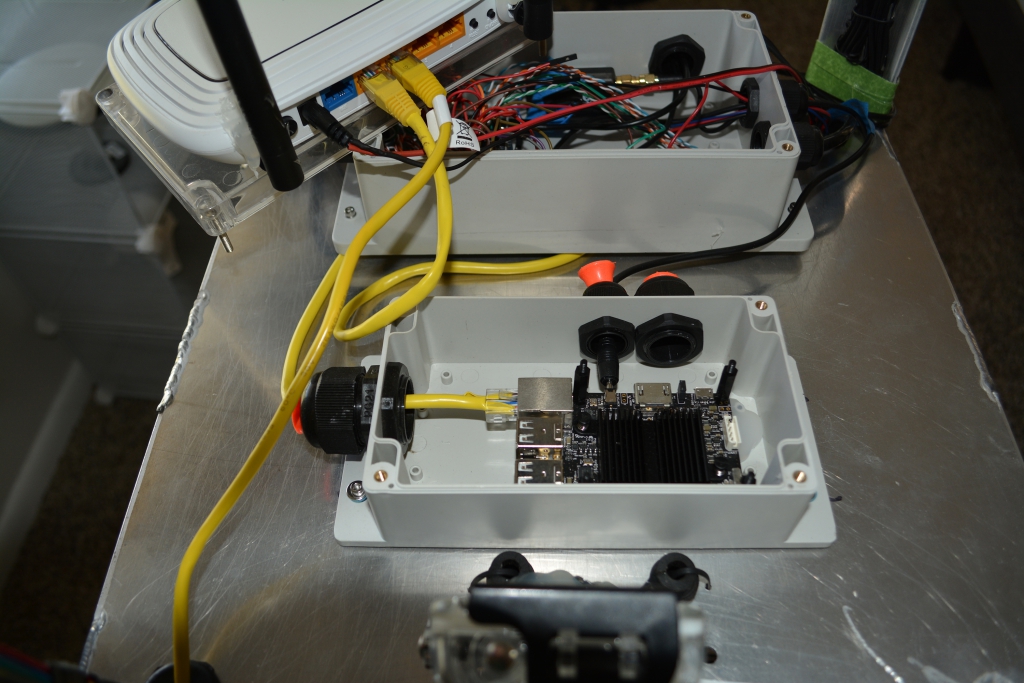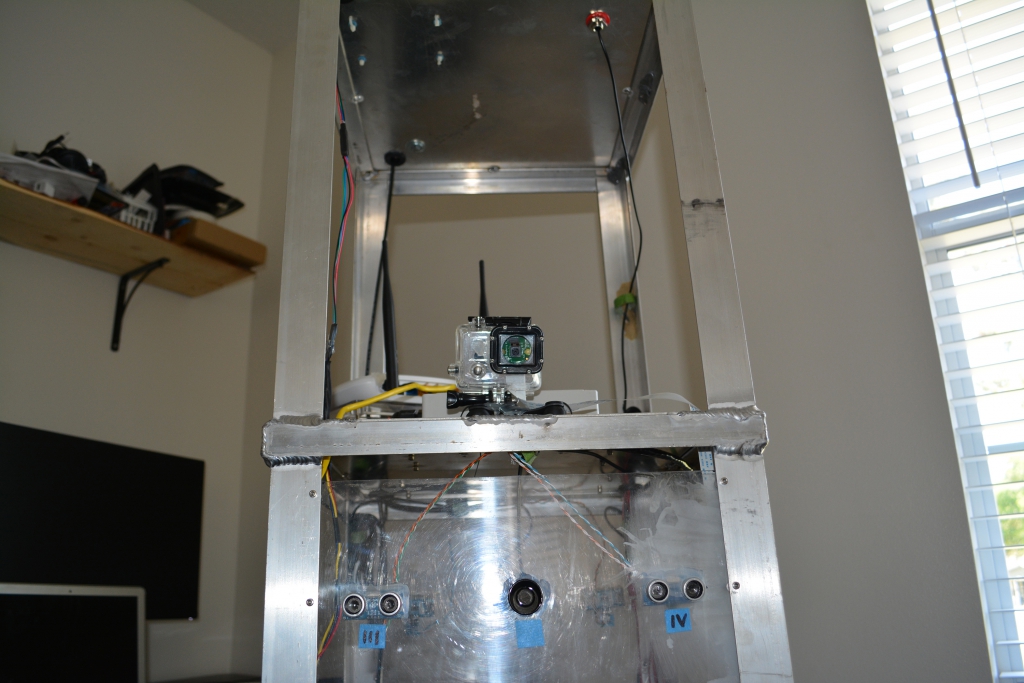 Here you can see the front ultrasonic sensor array mounted to a sheet of Lexan polycarbonate. Notice that the sensors on the left and right are not intended for outdoor use while the sensor in the middle is like the sensors you've seen on the rear bumper of vehicles for the past 15 years. The indoor ultrasonic sensors have always outperformed the waterproof ones in my experience.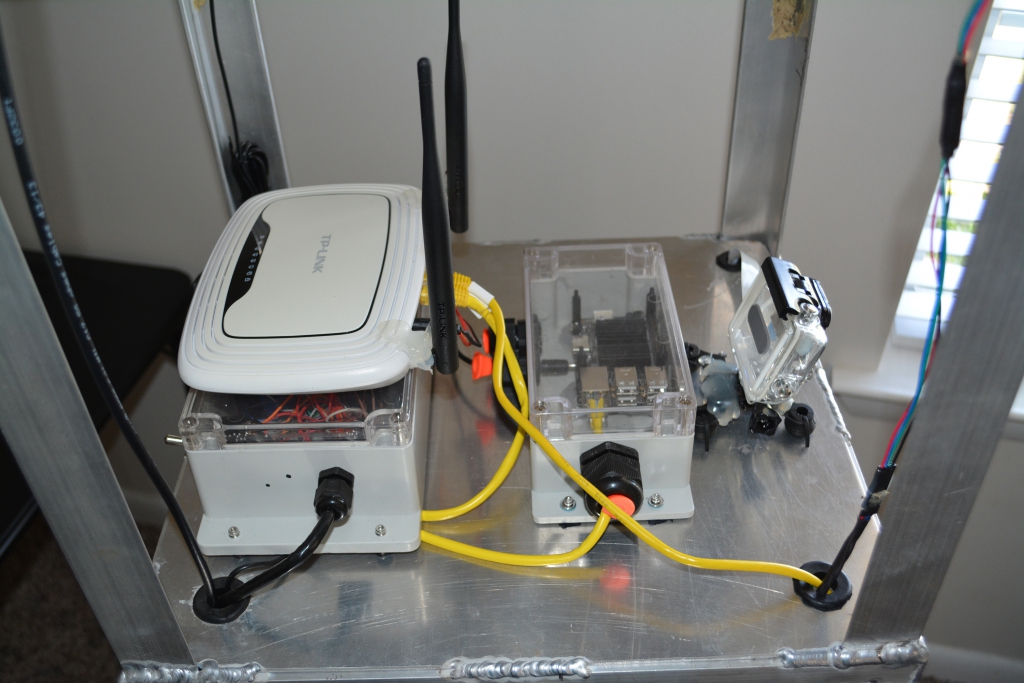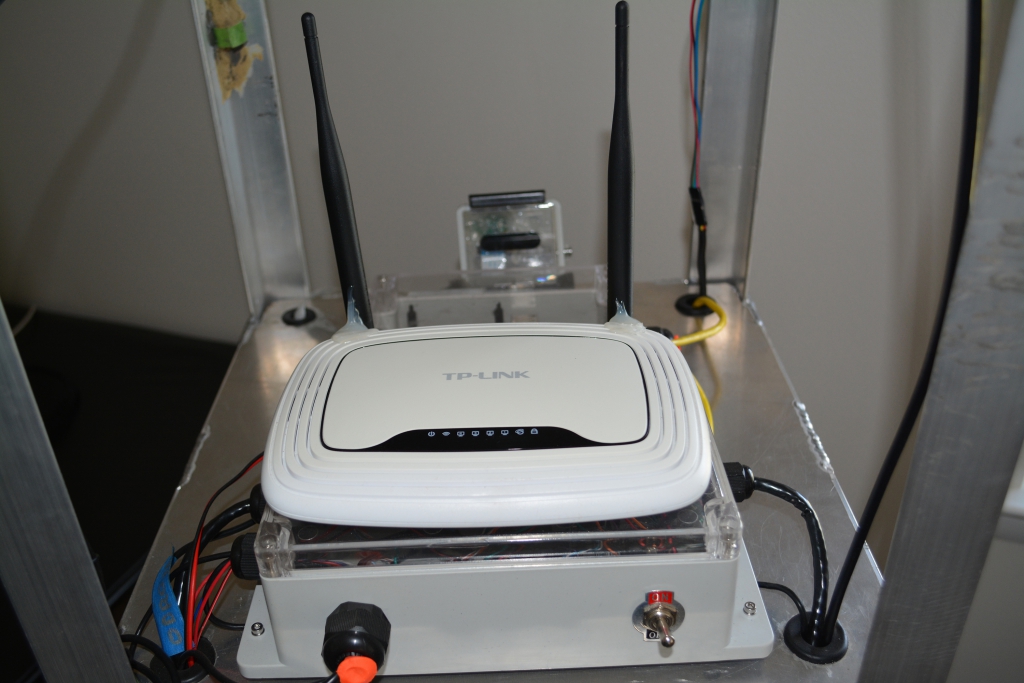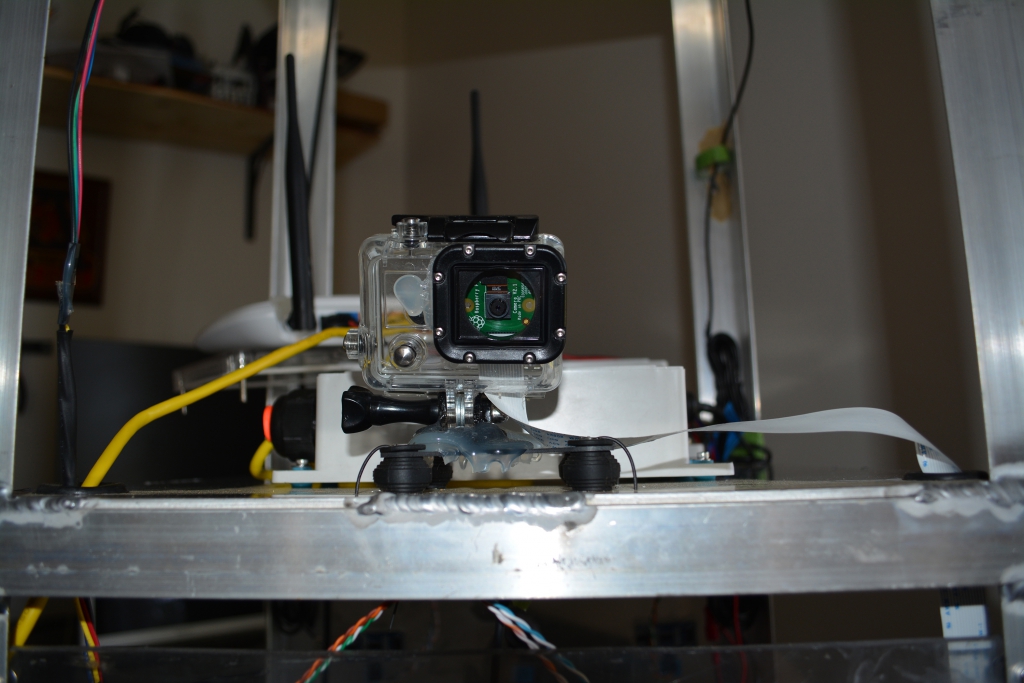 If you look closely at the camera case, you'll see my hot glue crush springing up all around. The truth is, I could let go of Velcro before letting go of hot glue — but the thought of losing either knots up a strong man's gut.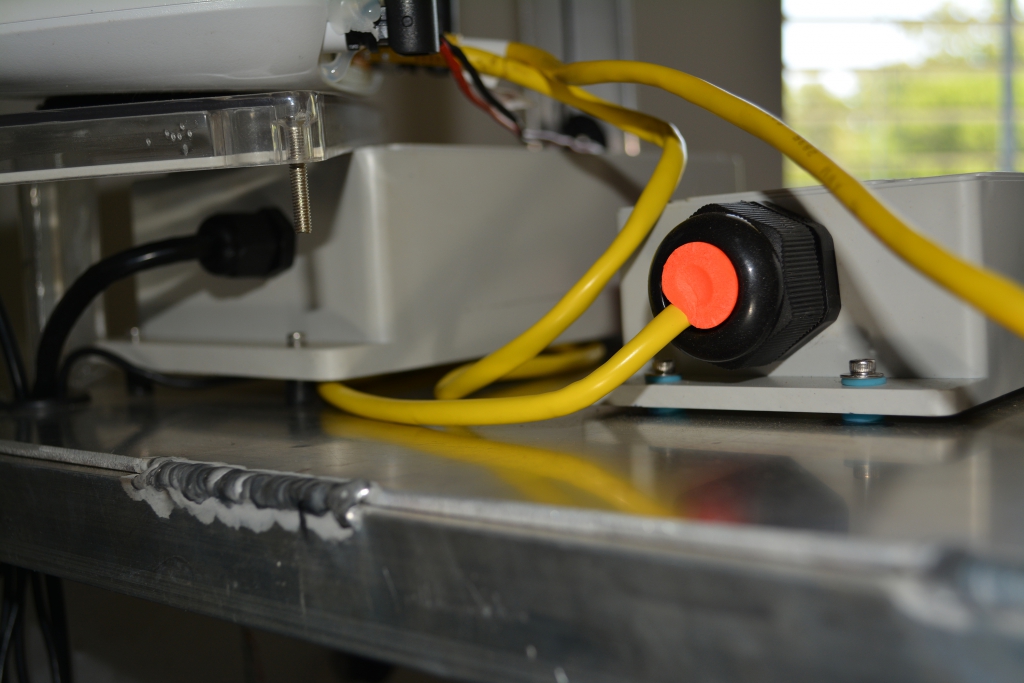 All of the enclosures are floating on some form of vibration dampening bushing. If you run a rover long enough off-road, you'll likely develop similar habits.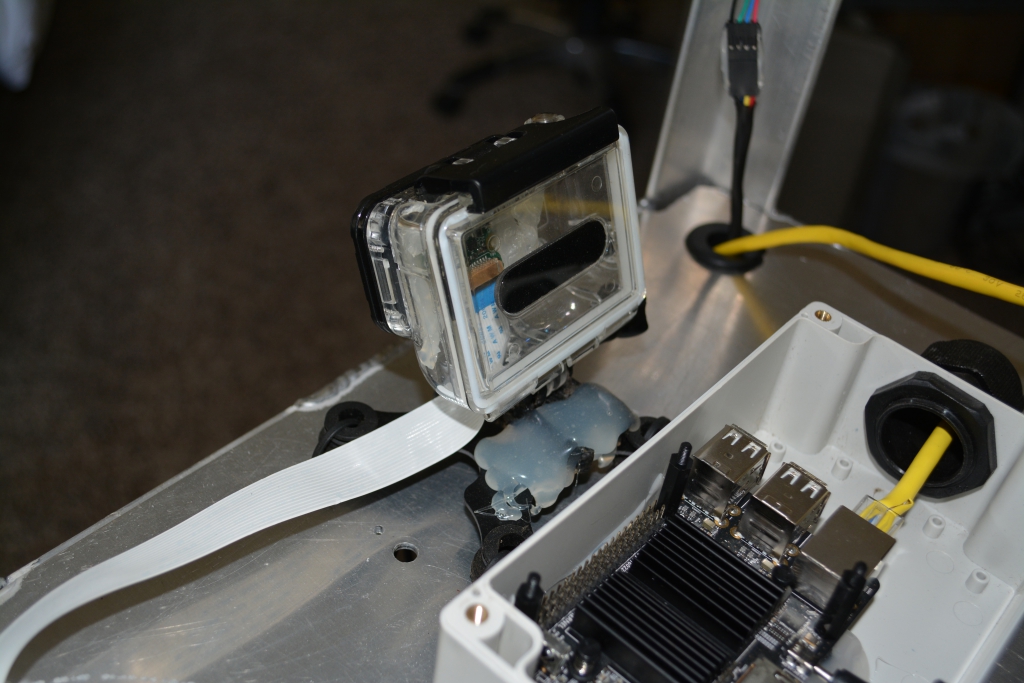 Here's a view of the rear of the Pi camera enclosure. There may be a good, standard weather-resistant pi camera enclosure nowadays, but I couldn't find one when building this rover. These GoPro enclosures are readily available, their tilt is easily adjustable, and they will only set you back ~ $6USD.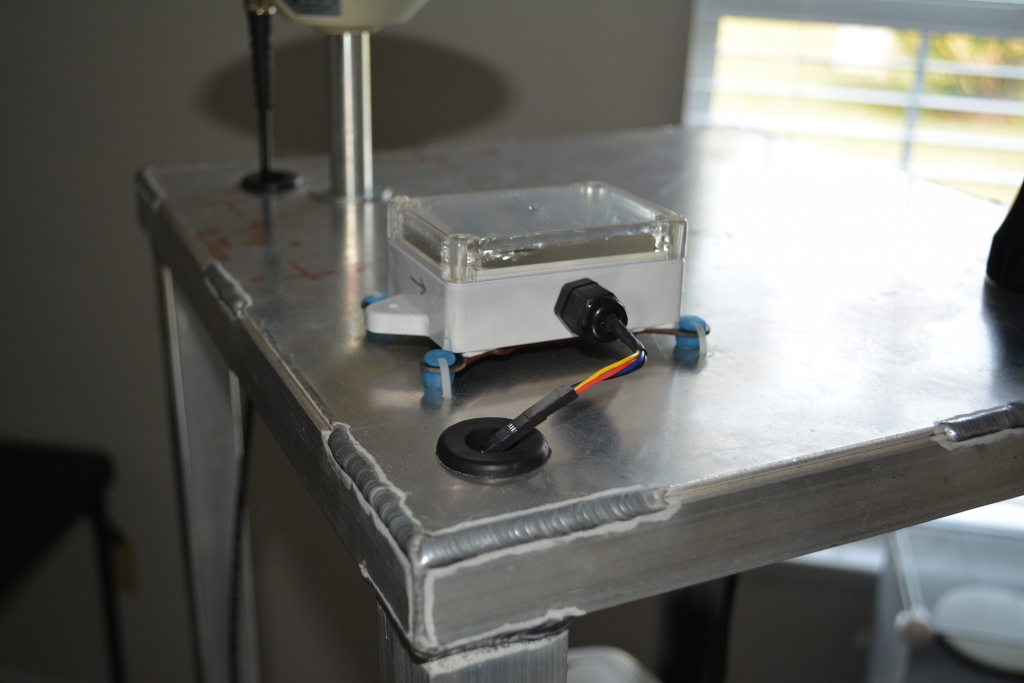 Every sensor will eventually be removed, replaced, changed, upgraded, etc. We need to push on this a little more: EVERY COMPONENT WILL BE REMOVED. You will not be eternally happy with the location you chose for any component. You will eventually add more sensors, add more servos, add more radios, add more antennas, add another computer, then wake up at 2 a.m. and realize your whole arrangement is sub-optimal.
When you are building your robot, always think about making your future self happy when you rearrange every component. The Good Lord, it seems, did not grant unto us roboticists the ability to perfectly place any part.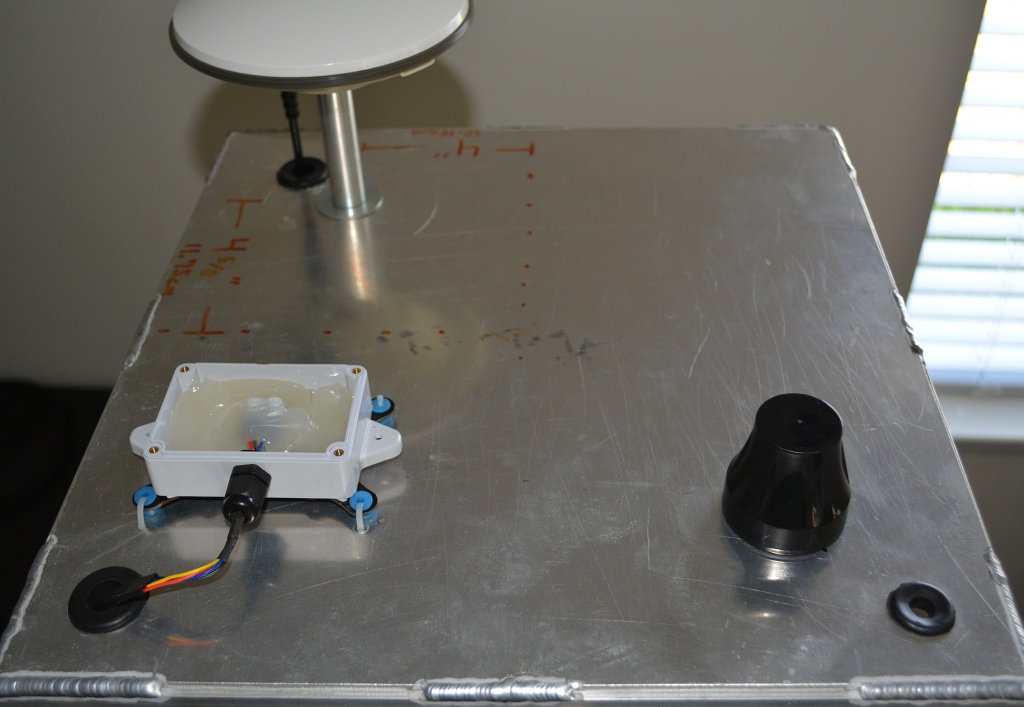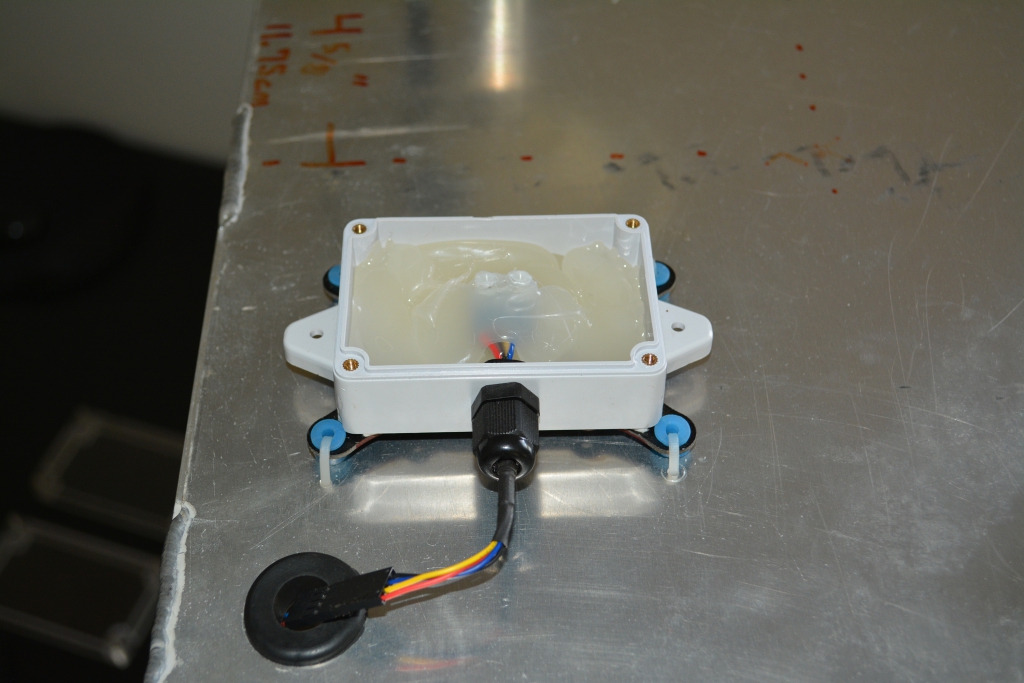 Wait a second, what kind of potting compound are we using to insulate the compass/magnetometer?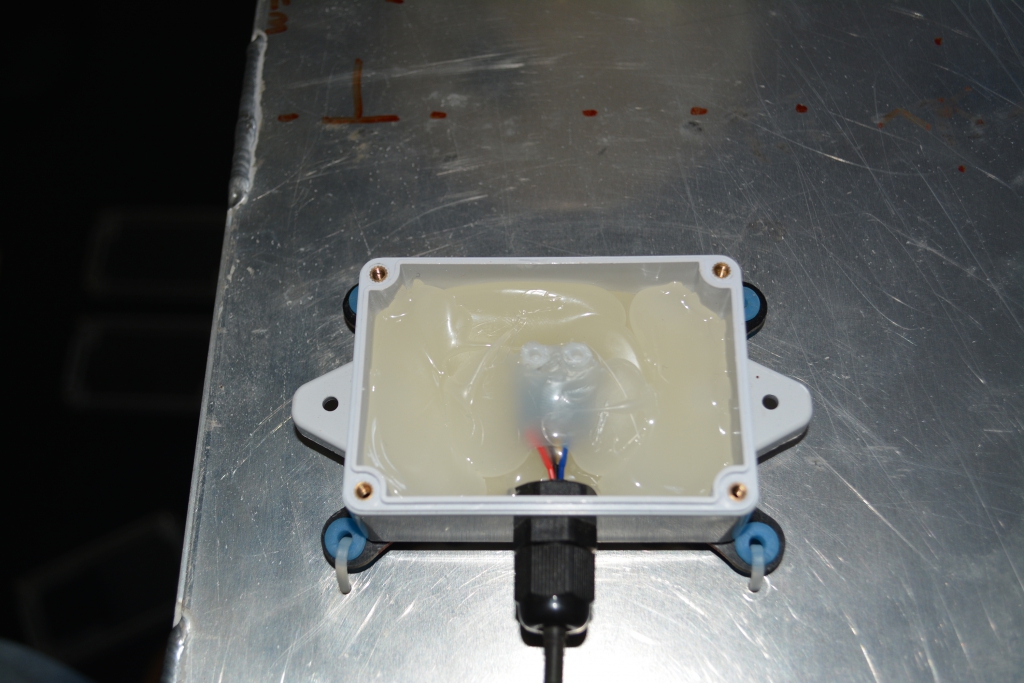 FAIR WARNING: the entire field of potting and potting compounds is wonderfully fascinating! If you're not careful, your family won't see you again tonight while you're lost somewhere on the internet in a geek-binge of potting compound reviews and information.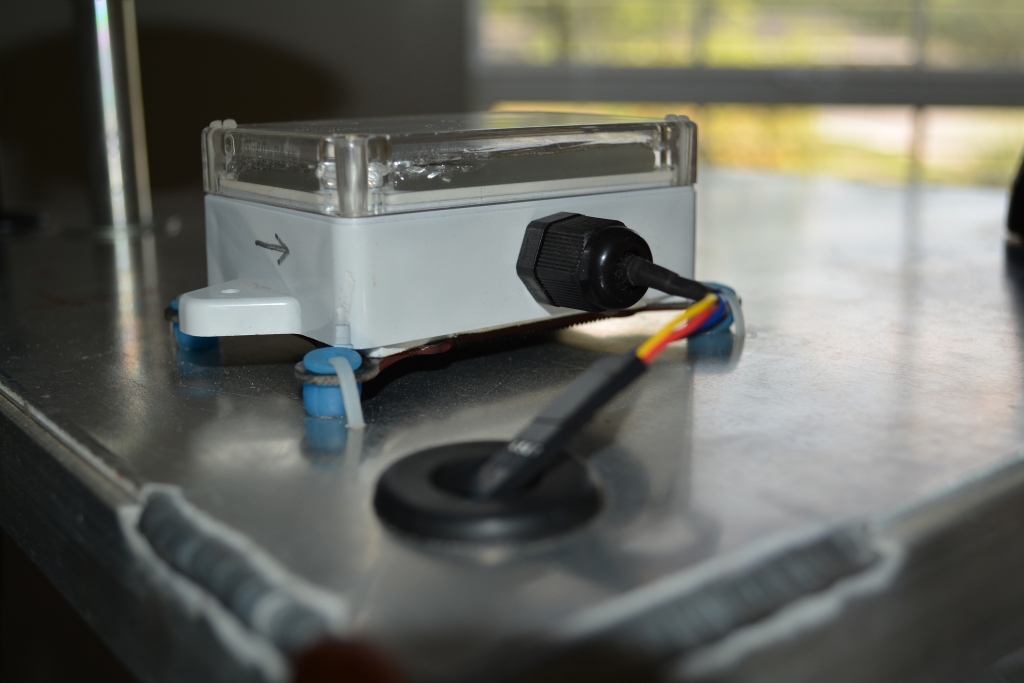 If you look at the magnetometer's clear lid above, you can almost make out another hack we pulled: Aluminum foil inside the lid (secured in place by a huge glob of hot glue, of course) to reflect sunlight. The objective of all this insulating is to shield the compass from sudden changes in temperature which could seriously degrade it's performance.
One more thing: notice that we use our nylon cable tie threading trick to secure and level the compass enclosure. It's very important both to mount a compass level relative to earth on your rover, and, later on when calibrating your autopilot, it's important to calibrate the "level" reading on your autopilot to be true relative to earth. Look, I know if you're new to this stuff that the last part of that sentence doesn't mean much, but later on we'll talk a lot more about this.
It's worth keeping in mind, if you're the kind of person who likes to keep random useful robot knowledge floating around in your mind, that a magnetometer's performance, if used alone, severely degrades when you introduce much roll or pitch. Fortunately for us, however, we'll be using the ArduPilot software which uses the Pixhawk's accels and gyros, along with slick and impressive math, to give good heading readings even in steep roll/pitch situations.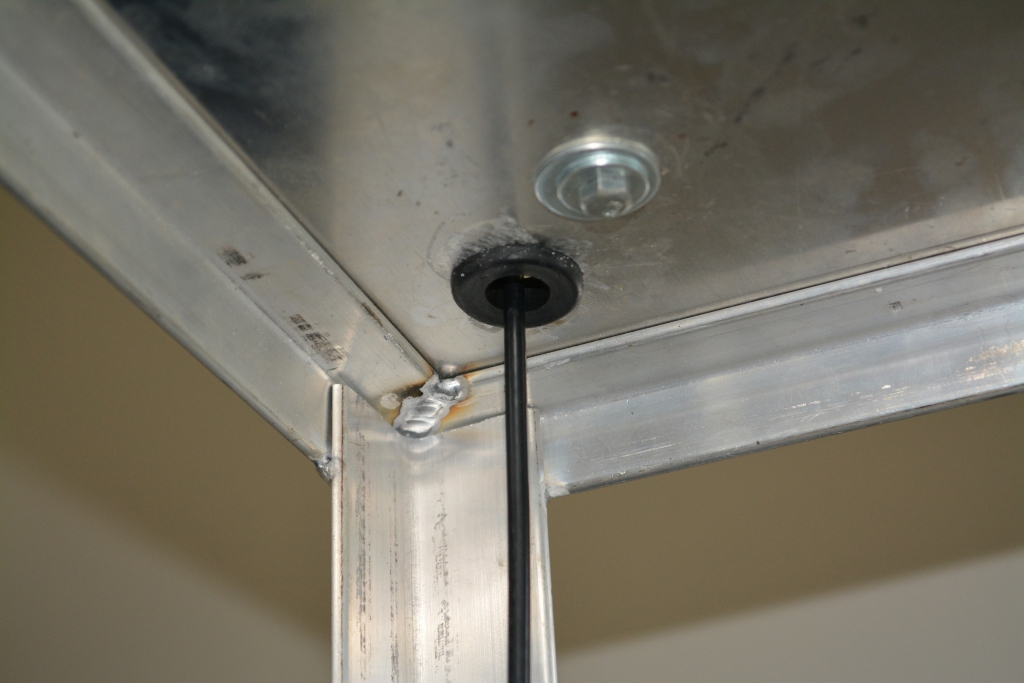 One last note: rubber grommets will keep sharp metal corners from cutting into your sensitive wires. As an added bonus, I think the black grommets contrast favorably on the silver aluminum body
Wrapping Up
Man that was a big set of pictures! Hey, if anything wasn't clear, just shoot a question in the comments and we'll try to clarify.
I have a feeling that next time we're going to stir up a little more GPS excitement.
Until we meet again,
Sincerely yours,
Roby